long-term protection against corrosion
improved engine protection
active care for the entire cooling system
BIZOL Coolant G12+ is a modern long-life antifreeze used for protection of the car cooling system from freezing and overheating. It contains special additives for the protection from corrosion and foaming. Recommended for all vehicles that require a coolant free from silicate, nitrite, amine and phosphate. Suitable for alu-engines. It does not harmfully affect rubber, sealing materials and other plastic materials. Can be mixed with similar coolants on the basis of monoethylene glycol, including silicate-containing coolant (G11). Concentrate. To be mixed with water.
Specifications/Approvals & Recommendations
ASTM D 3306/D 4656/D 4985/D 6210 | JASO M325
VW TL-774 D/F (G12 / G12+) | Audi/VW/Seat/Skoda TL-774 D/F (G12 / 12+)/61-0-0257 | Aston Martin | MB 325.3 | BAIC Group Foton Q-FPT 22313005-2013 | Behr | Case New Holland MAT 3624 | Caterpillar A4.05.09.01/MWM 0199-99-2091 / 11 | Chevrolet GMDAT | Cummins CES 14439/CES 14603/IS series / N14 | DAF 74002 | Detroit Diesel Corporation DFS 93K217 | Deutz DQC CB-14 | Fendt Vario CVT | Fiat Alfa Romeo/Lancia 9.55523 | Ford WSS-M97B44-D | GM B 040 1065/GMW 3420/Saturn/6277M | Isuzu | John Deere JDMH5 | Komatsu 07.892 (2009) | Liebherr MD1-36-130 | MACK 014 GS 17009 | MAN M 324 Typ SNF | Mazda MEZ MN 121D | MTU MTL 5048 | Renault Trucks 41-01-001 / S Type D | Rover WSS-M97B44-D | Suzuki Santana Motors | Valtra | Vauxhall GME L 1301 | Wartsila 32-9011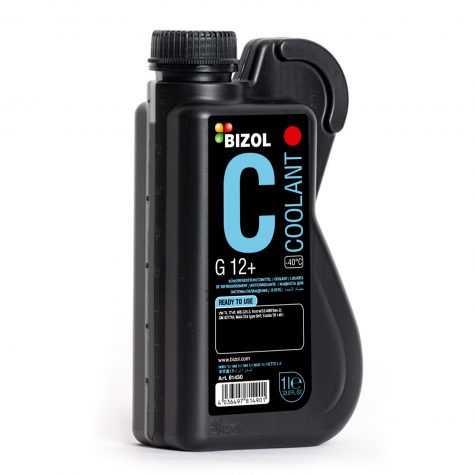 outstanding long-term cooler protection
protects against overheating
increases driving safety
BIZOL Coolant Asia is a long-life coolant for protection of car cooling systems. It is produced on the basis of ethylene glycol and contains the phosphate components which are characteristic for requirements of Asian car manufacturers. This product is free of nitrite, amine, silicate and borate. This formulation has extraordinary long lasting change intervals till 10 years. Concentrate. To be mixed with water.
Specifications/Approvals & Recommendations
Ford WSS M97B55 | GM Daewoo EDS-M-8210 | Honda E-Coolant Green 08CLAG010S0 | Kia MS 591-08 | Mazda C200-CL-005A4X/FL22 Coolant | Nissan L250 Anti-freeze Coolant KE90299944 | Sangyoung SES N 761-01 | Subaru SOA635002/SOA868V9210 Long Life Coolant