Start-stop systems increases engine wear up to 10 times and urban traffic test it to the fullest BIZOL Green Oil + is a cutting-edge, fully synthetic motor oil and Made in Germany. It is guaranteed to offer the best possible protection.
Using a original combination of PAO, API Group V and an effective additive package, BIZOL created this oil so that car lovers can take care of their vehicle under the tough conditions of modern road. Use our expertise and innovative thinking
Urban traffic, start-stop operation and hybrid vehicles BIZOL Green Oil This innovative app demonstrates the effect of our BIZOL Green Oil + compared to a conventional oil in all three driving modes:
Start-Stop
Urban traffic
Hybrid
But this is not all What is the stand out of this unique product that have been specially developed by our German engineers
Since its launch at the Automechanika Frankfurt 2016 the interest in our BIZOL Green Oil + has risen tremendously So we decided to tell you more about this product. What is the unique product behind this unique technology? Now we will show you two technologies that are our new BIZOL Green Oil + that we have captured and visualized for you.
Graphik 1: The 2 D Surface Gel technology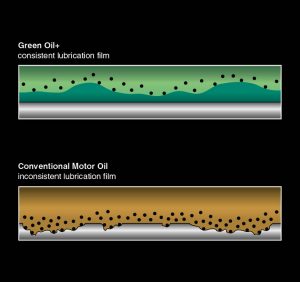 The 2D Surface Gel is a very innovative technology invented by the BIZOL R & D team that provides adhesion and a constant thickness of the lubrication film. It reliably prevents a breakdown between the specially loaded contact sufhes that occur in the stop and go driving mode and hence give the engine additional protection, especially in urban traffic as well as start-stop systems and hybrid vehicles. Thanks to this technology is a remarkable noise reduction.